13 Apr

Kansas Chamber Announces 2022 Annual Dinner Presenting Sponsor

TOPEKA, KAN. – The Kansas Chamber on Monday announced NIC, Inc., now a part of Tyler Technologies, will be its Presenting Sponsor of the 2022 Annual Dinner.
"Many Kansans may not know that for more than 30 years, NIC has delivered user-friendly digital services that make it easier and more efficient for citizens and businesses to interact with government agencies. The company's impact on Kansas at all levels of government has been tremendous and it is exciting to consider what lies ahead for the Kansas based company as a part of Tyler Technologies," said Chamber President and CEO Alan Cobb. "The Kansas Chamber and its members are thrilled to have NIC as this year's Presenting Sponsor of the 2022 Annual Dinner."
With headquarters in Overland Park and offices in 30 capitals across the country, including Topeka, NIC provides digital government solutions and payments services to more than 8,100 federal, state and local government agencies across the nation. It delivers valuable conveniences such as applying for unemployment insurance, submitting business filings, renewing licenses, accessing information and making secure payments without visiting a government office. Tyler Technologies completed its acquisition of NIC in the spring of 2021.
"As a Kansas company born and bred, we are proud to support the Kansas Chamber, an organization that shares our commitment to the growth and success of our state, its people and its businesses," said Liz Thomas, chief operating officer of NIC. "In Kansas alone, NIC provides tailored digital government and payment solutions to approximately 497 government agencies at the state, county and municipal level, connecting critical government services to the Kansans they serve. We are deeply grateful for the state's 30-year partnership and our collaboration with the Kansas Chamber, as we all aim to improve the lives of those living, working and leading across our great state."
In 2021, NIC securely processed 466 million online transactions and more than $28 billion on behalf of government agencies. In response to the COVID-19 pandemic, NIC also developed more than 130 new solutions to address the needs of government and those it serves, such as crisis communications, pandemic unemployment, COVID-19 testing, rent relief, and vaccine scheduling.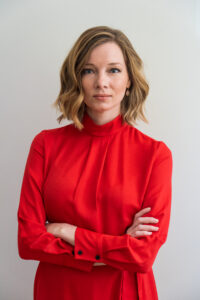 The 2022 Kansas Chamber Annual Dinner is Wednesday, April 27th at the Stormont Vail Events Center in Topeka. The dinner is one of the largest annual statewide gatherings of business and political leaders in Kansas.
This year's keynote speaker is national pollster, author, and commentator Kristen Soltis Anderson. You can learn more about the annual dinner here.
###
For more information, contact:
Sherriene Jones-Sontag
SherrieneS@KansasChamber.org
Posted: April 1, 2022