09 Feb

Chamber Announces 2022 Annual Dinner Keynote Speaker

Topeka, Kan. – The Kansas Chamber on Monday announced nationally recognized pollster Kristen Soltis Anderson will be the keynote speaker for Chamber's 2022 Annual Dinner.
"The Kansas Chamber and its members are excited to host Kristen Soltis Anderson as our keynote speaker in April," said Alan Cobb, Kansas Chamber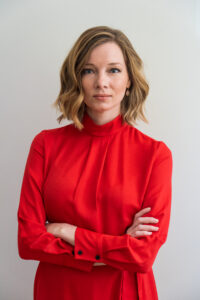 President and CEO. "As someone who understands key societal trends and how they impact America, Anderson will provide her observations about emerging public opinion trends, especially how they relate to the Kansas business community."
Anderson is a founding partner of Echelon Insights, an opinion research and analytics firm that serves brands, trade associations, nonprofits, and political clients. Through her work at Echelon, she regularly advises corporate and government leaders on polling and messaging strategy and has become one of the foremost experts on the Millennial generation.
She also is a host of SiriusXM's "The Trendline with Kristen Soltis Anderson" on its nonpartisan P.O.T.U.S. politics channel, a speaker, commentator, and author of The Selfie Vote: Where Millennials Are Leading America (And How Republicans Can Keep Up).
Learn more about Kristen Soltis Anderson here.
The Speaker Sponsor for this year's dinner is Security Benefit.

"We are thrilled to sponsor this year's keynote speaker for the Kansas Chamber 2022 Annual Dinner," said John Guyot, SVP and General Counsel at Security Benefit. "We look forward to getting her informative take on the direction of public opinion. We proudly maintain our support for the Chamber's tireless efforts serving as the legislative voice for the Kansas business community. Advocating for pro-business legislation is critical not only to the ongoing economic health of our state, but also to building momentum for future growth."
The Kansas Chamber's 2022 Annual Dinner will take place on Wednesday, April 27th in Exhibition Hall at Stormont-Vail Event Center in Topeka.
The Annual Dinner is the largest gathering of business leaders and policy makers in the state. It features the presentation of the Chamber's annual Ad Astra award. The Ad Astra recipient is a Kansas business chosen for its unique contribution to the economic health and welfare of our state and its community.
Learn more about this year's dinner at www.KansasChamber.org/AnnualDinner/
###
For more information:
Sherriene Jones-Sontag
SherrieneS@KansasChamber.org
Posted: February 28, 2022